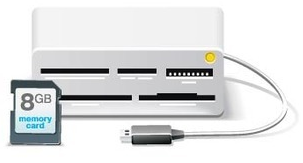 Card Reader
Card Reader is a kind of card reading device. Since there are many types of cards, the meaning of the card reader covers a wide range.
Depending on the type of card, it can be divided into IC card readers, including contact IC cards, following the ISO7816 interface standard; contactless IC card readers, following the ISO14443 interface standard; long-range card readers, following ETC National standard GB20851 interface standard.
The interface of the memory card is not very uniform; the main types are CF card, SD card, MiniSD card, SM card, Memory Stick card, etc.
RFID electronic tag readers are called long-range card readers. For example, in an ETC system, they can read and write IC cards in vehicles within 10m.
Memory cards are widely used in smartphones and cameras. According to the type of memory card, it is divided into CF card reader, SM card reader, PCMICA card reader and memory stick reader, etc. There are also dual slot card readers that can use two or more cards. According to the type of port, it can be divided into serial port reader, parallel port reader, and USB card reader.